1. No user installed addons are supported, python or otherwise.
2. No, they really are not supported.
3. They are not coming back
4. Read from 1. again
Any mention of illegal streaming sites, addons or any pirated material will not be tolerated. This is not democracy and any offenders will be banned and posts deleted immediately without warning.
Other than that, we hope you enjoy MrMC so far and we welcome any input and feedback you might have.
Team MrMC.
---
No can do right now. Let me know if you still need it in a few hours.

---
Cosmetic issue. On the Plex add-on, say your on Movie detail page, cast member,and click Menu, that's just one scenario that brings up that overlay bar at he top (with the home and search icon on it).
That bar is ugly. It also has some text above those 2 icons that are cut off on my 59 inch plasma. It also makes me think Im focused on the orange home symbol, ready to click menu, but I'm not. So 3 issues there
---
---
Just got 3.5.1 on the shield and on my OnePlus5T. In both cases it crashes on first start and if you then go back to to it it's just a back screen (actually seems to get slightly lighter at bottom - see attached screen shot).
Any ideas? The Op5T is a complete new install, so I don't think it's any old setup.
---
Same also for me on my Shield with 3.5.1.
I removed the app and installed it back but no fix. App crashes immediately or black screen.
Waiting for official fix.
---
just found a display(function?) bug
AppleTV 4k / tvOS / latest Testflight MRMC release
adding a source / video / browse / add net location / browse
see the following: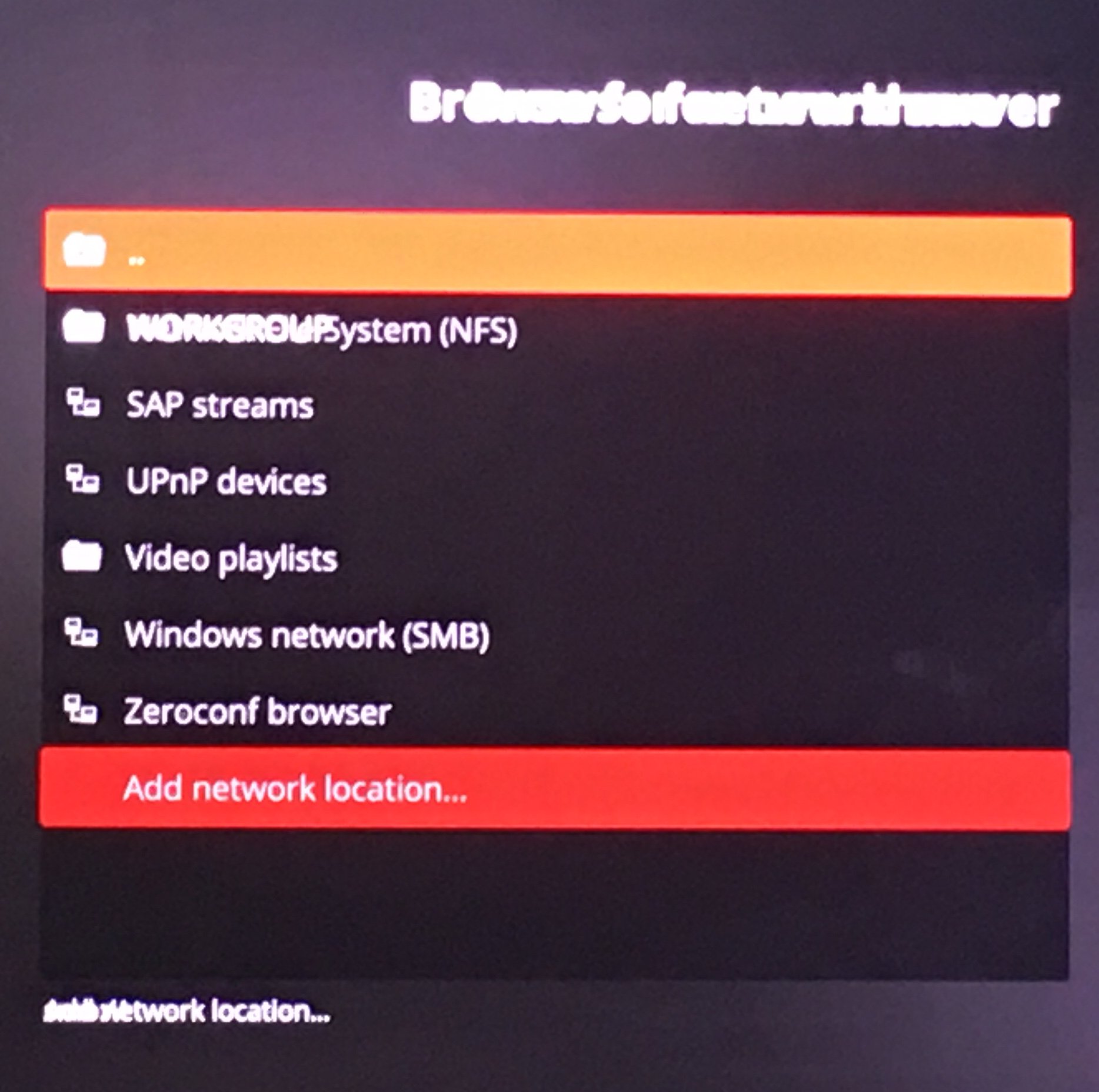 ---
if you try a different skin? same issue?
---
Posts: 834
Joined: 09 Dec 2015, 22:43
Tried out the iPad version and the Plex addon is not very great on a touch screen (you called it @davilla lol). Scrolling the main screen is difficult, as it seems it doesn't exist and it just goes to where you touch. Scrolling the movies and tv section seems to actually work as gesture scrolling. The posters are truncated, so for example the poster for Anchorman shows "nchorma"

I also have no idea how to get back to the default Opacity screen when in the Plex addon.

Edit: seems the touch areas in the Plex addon settings overlap or are off. I have to touch a little above where I feel I should be touching to change settings.
---
---